Corporate Service Council
Supporting and convening top corporate citizenship leaders to drive lasting social impact.
What We Do
Points of Light's Corporate Service Council believes companies, their employees, partners, vendors and customers can be drivers of transformative social change in communities around the world. This potential is realized when employees are inspired and engaged as essential drivers of their company's social action. The CSC empowers and equips leaders to help their employees to drive community impact by connecting them to a network of social impact peers, experts, academics and nonprofits. Points of Light supports its council members with sector insights and benchmarking resources, in-person and online trainings and issue webinars, consulting time, and peer-led learning to spark innovation to achieve business and social outcomes.
About the Council
POINTS OF LIGHT CREATED THE CORPORATE SERVICE COUNCIL IN 2005 TO BRING TOGETHER CORPORATE CITIZENSHIP LEADERS AND ADVANCE THE CORPORATE SOCIAL IMPACT SECTOR. MEMBERS INCLUDE MORE THAN 90 OF THE WORLD'S LARGEST AND MOST SUCCESSFUL COMPANIES WORKING TO DRIVE LASTING CHANGE IN THEIR COMPANIES AND COMMUNITIES.
Corporate Service Council members gain access to a wide variety of benefits for their company, corporate citizenship leaders including:
Learning Labs

: Virtual discussions, webinars and courses, available to any CSC member employee, facilitated by leading experts and corporate leaders from peer companies to explore pressing topics relating to employee volunteerism and social impact.

Online Learning Platform

: CSC members and their teams have access to a wealth of curated CSR content and experts through Points of Light's new online Community for Employee Civic Engagement (CECE).

Events & Gatherings

: CSR leaders and senior executives from member companies are invited to take part in special programming and peer-to-peer learning opportunities at the Council's Annual Summit, Points of Light Conference and regional gatherings. 

Advisory Services

: Council members receive advisory services from Points of Light which include: limited consulting; best practices; connections to other peer members; research; and benchmarking services.​

Recognition

: In addition to the learning and networking opportunities, Points of Light spotlights CSC members, companies, their programs, and leaders throughout the corporate citizenship sector and its global network of nonprofits and companies driving social impact. 
CSC members have access to exclusive discussions, webinars and online courses, available to any CSC member employee. These webinars are facilitated by leading experts and corporate leaders from peer companies to explore pressing topics relating to employee volunteerism and social impact. Topics for Learning Labs have included:
Employee Engagement with Demands for Racial Equity

​

Employee Engagement with COVID-19 Relief & Recovery

​

Volunteering When You Can't Serve In-person 

​

Aligning HR and CSR Goals for Employee Wellbeing

​

Starting & Scaling Employee Volunteer Programs

​

How Companies can Support Voters and Elections

Tracking employee engagement metrics beyond volunteerism

 

Forging New Relationships with your Employee Resource Groups

 

Connecting Social Impact, Government Affairs and Public Policy

 

Building High-Impact Volunteer Partnerships

​

The Economics of Disaster Recovery and Response

​

Social Impact Storytelling at the Local & Global Level

​

Engaging Hard to Reach Workers for Social Impact

​

Social Impact Outcome and Impact Measurement

​
CSC members and their teams have access to a wealth of curated CSR content and experts through Points of Light's new online Community for Employee Civic Engagement.
CECE offers you a place to find peers and answers. It's an online hub for company-led citizenship that lifts up Points of Light's legacy of knowledge and the best content curated from sector experts and the entire citizenship community to help you demystify the art of starting, strengthening and evolving employee civic engagement.
We invite you to join others just like you, looking for answers and ideas to help employees connect to causes and help companies maximize the impact of their actions inside the company and for the communities where they operate.
Annual CSC Summit
The annual 2-day Corporate Service Council Summit hosted by AT&T in New York City brought together 100 top corporate citizenship leaders and executives from around the country to explore crucial topics facing the sector, share best practices and innovative strategies and provide a wealth of insights and inspiration. View the program, recap and photos from the 2020 Summit.
Points of Light Conference
The 2021 Points of Light Conference will be held July 14-16 at the Walt Disney World Resort in Orlando. CSC members that attend are invited to participate in the Council meeting, business luncheon, and the more than 15 CSR and social impact workshops facilitated by leading experts and corporate leaders.
Virtual & Regional Gatherings
Points of Light also hosts virtual and regional gatherings to engage members to network and provide peer-to-peer learning opportunities.
Corporate Service Council Members
3M

AbbVie

Accenture

Adobe

Aflac

AIG

Allstate Foundation

Altria

Amazon

Anthem

Ares

Assurant

AT&T

Atrium Health

Bank of America

Bellisio Foods

Bloomberg

Blue Cross and Blue Shield of Louisiana

Blue Cross Blue Shield of Massachusetts

Booz Allen Hamilton

Boston Scientific

Caesars Entertainment

Capital One

CarMax

Carol Cone ON PURPOSE

Charles Schwab & Co. Inc.

Cisco Systems Inc.

Citi

Clif Bar & Company

The Coca-Cola Company

Cognizant

Comcast NBCUniversal

Comerica Bank

Conagra Brands

Coupa

Cox Enterprises

CSAA Insurance Group

CVS Health

Deloitte

Delta Air Lines

Dentons US LLP

Dow

DTE Energy

Edelman

Entergy Corporation

Equitable

FedEx Corporation

Fidelity Investments

Fiserv

Freeport-McMoRan

Galaxy Digital

General Mills Foundation

General Motors

Georgia Power

GoDaddy

Grant Thorton LLP

Hasbro Inc.

Health Care Service Corporation

The Hershey Company

Hewlett Packard Enterprise

Hilton Worldwide

The Home Depot

Home Instead

IBM Corporation

Inspire Brands

Jeff Hoffman & Associates

JetBlue

John Deere

John Hancock Financial Services

JPMorgan Chase & Co.

Kellogg Company

KeyBank

KPMG LLP

Liberty Mutual Insurance

M Powered Strategies

Marriott

MassMutual

Microsoft

Morgan Stanley

New York Life Insurance

NortonLifeLock

Orion Associates

Pacific Life

PepsiCo

Pfizer Inc.

Phillips 66

PIMCO

Pitney Bowes

Point32Health

Prudential

PwC

Regeneron Pharmaceuticals

S&P Global

SAP Americas

ServiceNow

Southwest Airlines

Starbucks Coffee Company

State Street Corporation

Steelcase

Sterling Backcheck

Subaru of America

Tailored Brands

Target Corporation

Tata Consultancy Services

Timberland Company

TEGNA

Toyota

Travelers

True Impact

Truist

UnitedHealth Group

Unum

UPS

VeraWorks

Vertex Pharmaceuticals

The Walt Disney Company

Wells Fargo

Westrock

Wynn Resorts
Meet the Corporate Service Council Chair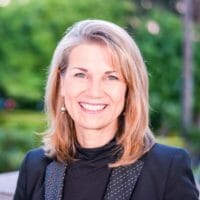 Charlene F. Lake
Chief Sustainability Officer, Senior Vice President, Corporate Social Responsibility, AT&T Foundation Chair, AT&T Services, Inc.
Charlene Lake is responsible for leading AT&T's social innovation, environmental, philanthropic and civic engagement endeavors, driving stakeholder impact measures on behalf of the corporation, and coordinating signature initiatives that connect social needs with business objectives. Charlene began her professional life as a journalist, working on daily newspapers in Kansas. She started her career at Southwestern Bell Telephone in Topeka, and served in management roles in Financial Communications, Media Relations and Employee Communications in Kansas, Missouri and Texas. She went on to lead SBC's Corporate Advertising and Sports Marketing departments, managing them through multiple mergers, and thereafter created a Public Affairs discipline for the company. In 2007, she designed and launched AT&T's centralized Corporate Responsibility function which she still leads today.