Employee Volunteerism and the Impact of Purposeful Partnerships
Companies have a unique and critical role to play as partners in fostering a thriving society. As both business and civic leaders, companies are responsible for serving the diverse needs of employees, customers, community partners, investors and neighbors. At their best, they share their resources and act as trusted counsel, collaborators and problem solvers.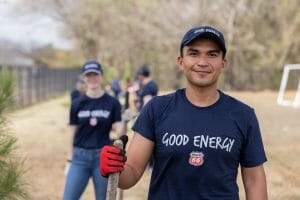 Every company is born out of an idea to provide a product or service to meet a human need. As an energy company, Phillips 66 makes products people use every day – our fuels and products are an essential part of connecting, feeding, clothing and caring for the world's growing population. We are in business with one enduring purpose: to provide energy and improve lives.
How does our company live its purpose to better society?  We create purposeful partnerships – with our employees, nonprofit organizations, academia and community leaders. Together, we openly share the best of our resources, and collaborate to solve society's greatest challenges. Our partnerships in local communities go well beyond philanthropic giving and product donations.
At Phillips 66, we seek to build purposeful social impact partnerships in multiple ways. We:
Provide community organizations with funds to meet strategic, changing and urgent needs.
Provide people power – from skilled volunteerism and leadership to simple acts of volunteer service.
Share intellectual capital and expertise.
Utilize company resources, facilities and equipment.
Help partners expand their relationships and networks.
One example of a purposeful partnership in action is our Phillips 66 multitiered collaboration with the American Red Cross. Through this partnership that we view as a "gold standard" we:
Dedicate an executive to serve on the Houston Red Cross Board of Directors.
Provide significant, annual, financial contributions to support natural disaster preparedness and response efforts.
Volunteer our time by donating blood, serving meals and building hygiene kits for those in need.
And at the onset of COVID-19, our Phillips 66 board member and the Houston Red Cross CEO initiated weekly calls to discuss best practices and learnings from the Phillips 66 Health, Safety and Environment team, which the Red Cross used to help safely open its facility as a dedicated location for blood and plasma drives.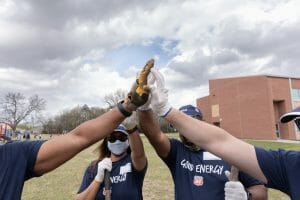 Like many companies, Phillips 66 was eager to step up and offer its resources to help relieve the burdens of the pandemic.  We shifted our involvement to meet the greatest and immediate needs of our partners. In support of the Barbara Bush Houston Literacy Foundation, we reallocated funds to include book donations as part of meal distributions in public schools and to transform educational summer camps to virtual learning opportunities. In communities around the country, we also donated personal protective equipment, sewed masks and made face shields with 3-D printers to distribute to community members, worked with a local food bank to redesign the food service model to meet COVID-19 safety standards, and significantly increased our social impact investment.
We have created a powerful model for change by working with a shared purpose and in partnership with community organizations. As we celebrate Global Volunteer Month this April, it's a good time to consider how we can be most effective in sharing our collective talents, resources and time.
This month, alongside Points of Light, Phillips 66 is proud to mobilize a global call to volunteerism. Let's connect with our neighbors, empower community partners and engage citizens to join in service. Working together, we have the collective power to build strong and sustainable communities and improve lives.
Greg Garland is Chairman and CEO of Phillips 66.
Share this post